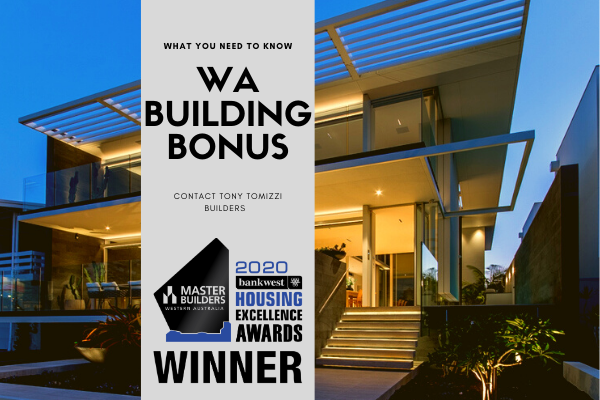 WA Building Grant Eligibility
Are you ready to build?
The West Australian Government has unveiled a stimulus package for the state's home building sector, providing cash grants to prospective homebuilders. That means a $20,000 grant for a new house build. The grants are available within a tight window from 4th June until 31st December and stipulates that construction must start within six months of the contract date.
Are you eligible?
The grant is available if you meet one or all of the following criteria:
Owner occupier
Australian citizen, permanent resident and foreign person
Natural persons, corporations and trustees
Building contract must be signed after 4th June 2020.
Contact Tony Tomizzi Builders on 0417 849 180 to discuss your new build and take advantage of the grant whilst it lasts.
View 2020 Winner Bankwest Top WA Home Built by Tony Tomizzi Builders
Tony Tomizzi Builders – Build Gallery
Grant Information provided by https://www.wa.gov.au/service/community-services/grants-and-subsidies/apply-new-home-construction-grant.
For full details on eligibility and specific examples which relate to your personal situation click on the above link